Premium MR Beadboard Panels and Beadboard Kits
Save 7% with Premium Moisture Resistant Kits
Deepest Beads on the Market! - Best Moisture Resistant MDF - No added Formaldahyde

Reversible Panels with lap joints
The Beadboard Panel finish width is 8 inches. They have ship lap joints so each panel will overlap the prior panel and the seams will be hidden by the lap at the edge of the bead.
American Beadboard Kits - 94" Wide
Save 7% with Moisture Resistant Kits
36" Tall Kit: $223/Kit
42" Tall Kit: $246/Kit
52" Tall Kit: $290/Kit
66" Tall Kit: $379/Kit
(kit savings = if purchased separately)
Don't Settle for Ordinary..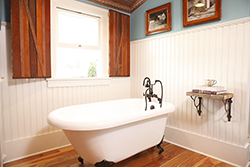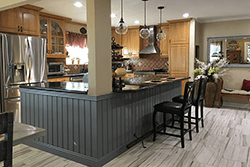 Reversible Beadboard Panels
Our Beadboard Panels are cut from 5/8 inch thick premium MR MDF. The beads are deep and distinctive which gives the panel an elegant shadowing effect.
One side of the panel has beads that are 2 5/8" on center. The other side has beads that are 4" on center.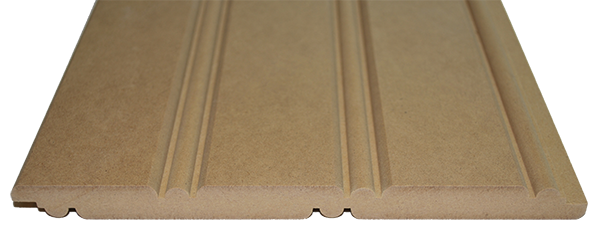 The outer edge of the cut includes a rounded edge which gives the panel a distinctively smooth feel and is soothing to the touch.
Each bead board panel has a finish width of 8". You can purchase prepackaged kits with 30", 36", 46" and 60" tall bead board panels. When combined with the top cap molding and baseboard moldings the finish heights will increase by 6" to kit heights of 36", 42", 52" and 66". You can special order taller heights of beadboard panels up to 120" for taller applications. Panels over 94" will need to ship with curb side freight services.

Top Cap, Baseboard and corner moldings are made from Poplar wood. Poplar is the wood of choice because it is a medium weight wood with good strength and great painting characteristics. The moldings can be purchased by the foot. The kits are supplied with 94" long moldings. Note: If an 8FT molding is ordered it will be shipped as 94" because this is the maximum shipping length allowed by FedEx and UPS.